Once fall colors transform the Michigan landscape, forest trails become beautiful places to wander off the beaten path on horseback. The state's most recognized equestrian route — the Michigan Shore-to-Shore Trail — was developed in the early 1960s. It now stretches 220 miles across the northern Lower Peninsula between Empire on Lake Michigan and Oscoda on Lake Huron.
Each fall, riders traverse the state enjoying the views as they amble through conifer forests and among towering hardwoods, rich with colorful orange, red and gold hues. Public campgrounds are located all along the route. Passing through the Boardman River valley and following the Au Sable River for some 50 miles, nearly half of the Shore-to-Shore Trail lies within the Huron-Manistee National Forest.
The national forest hosts two other horse trails too, the popular 42-mile Hungerford Trail System west of Big Rapids and the 20-mile Marzinski Horse Trail and Campground near Wellston. Still, other horseback trails and trail camps are maintained in the Hiawatha and Ottawa national forests in the Upper Peninsula.
Fall trail riding takes an historic turn at Heritage Hills Horseback Riding
(heritagehillshorsebackriding.com) between Ishpeming and Negaunee in the Upper Peninsula. Joni and Phil Gleason began developing their trails in what was part of the original Wawonowin Country Club, built in 1896 by mining executives.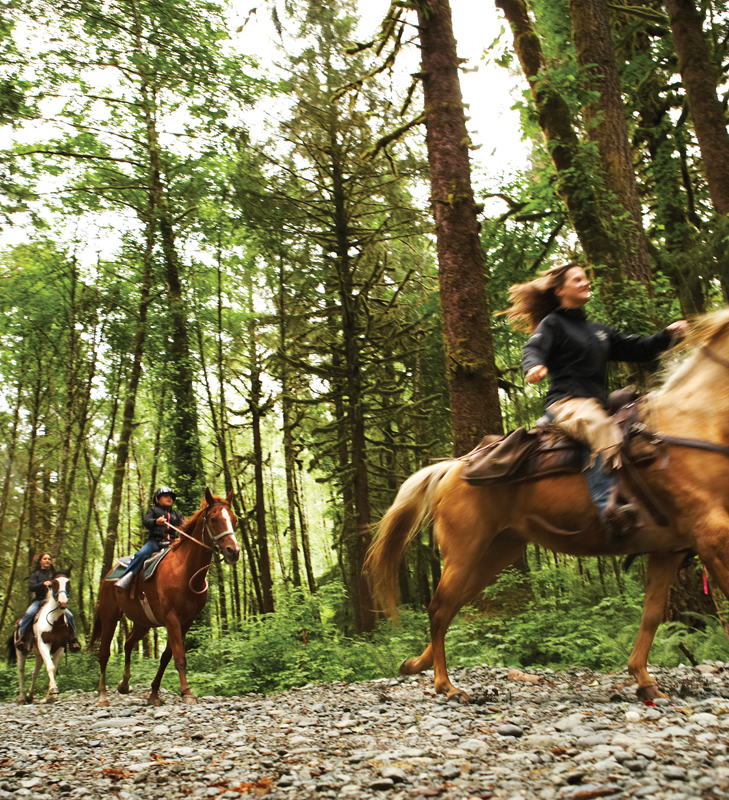 The first clubhouse and course were constructed atop numerous underground mining operations, and today, riders pass over the old greens and tee boxes, past remnants of abandoned mines, alongside two popular ski jumps from the early 1900s and near the old Union Park racetrack, where it is said Buffalo Bill once performed.
More than 200 miles of equestrian trails and dozens of horse-friendly campgrounds are found in Michigan's state park and state forest system. Riding stables with horse rentals are offered at a handful of facilities in southeast Michigan, including Maybury State Park in Northville, where riders will find 11 miles of bridle trails with group rides planned Tuesday through Sunday afternoons throughout the fall season. The park also is home to Maybury Farm, offering year-round demonstrations of life in the early 1900s, such as grain harvesting, sheep shearing and honey extracting.
Several riding options are found on the Allegan County Equestrian Trail System
(allegancounty.org), where 60 miles of marked and mapped designated horse trails make it easier for locals and visitors alike to explore the area. The routes are part of the 50,000-acre Allegan State Game Area and consist of two distinct networks.
Located near Hamilton, 30 miles of trail connect to Allegan County's Silver Creek Equestrian Campground and Park, where both day riding and overnight camping are available. The county park has 65 campsites available for horse camping. An additional 30 miles is found south of M-40, with one staging area located at Swan Creek Pond and the other at Ely Lake Campground, which also allows for overnighting.
---
Where to Ride?
Looking to go on a trail ride this fall? Here's where you can find more information:
Michigan Department of Natural Resources
michigan.gov/dnr (search "Equestrian Trails")
Michigan Horse Council
michiganhorsecouncil.com
Michigan Trail Riders Association
mtra.org
Huron-Manistee National Forest
fs.usda.gov/hmnf
Hiawatha National Forest
fs.usda.gov/main/hiawatha/home
Ottawa National Forest
fs.usda.gov/ottawa
Boyne Mountain, Boyne Falls
boyne.com
Cindy's Riding Stables, Mackinac Island
cindysridingstable.com
Dana's Lakeside Resort, Au Train
danasresort.com
Double JJ Ranch, Rothbury
doublejj.com
Healey's Outback Ranch & Guesthouse, Stanwood
healeysoutbackranch.com
Maple Ridge Stables, Vanderbilt
mapleridgestables.com
Outrider Horseback Riding, Lake Ann
outriderhorsebackriding.com
Rainbow Ranch, New Era
rainbowranch-inc.com
Ranch Rudolf, Traverse City
ranchrudolf.com
Upper Peninsula Equestrian Center, Marquette
upequestriancenter.com
Wild West Ranch, South Haven
4horserides.com
Facebook Comments