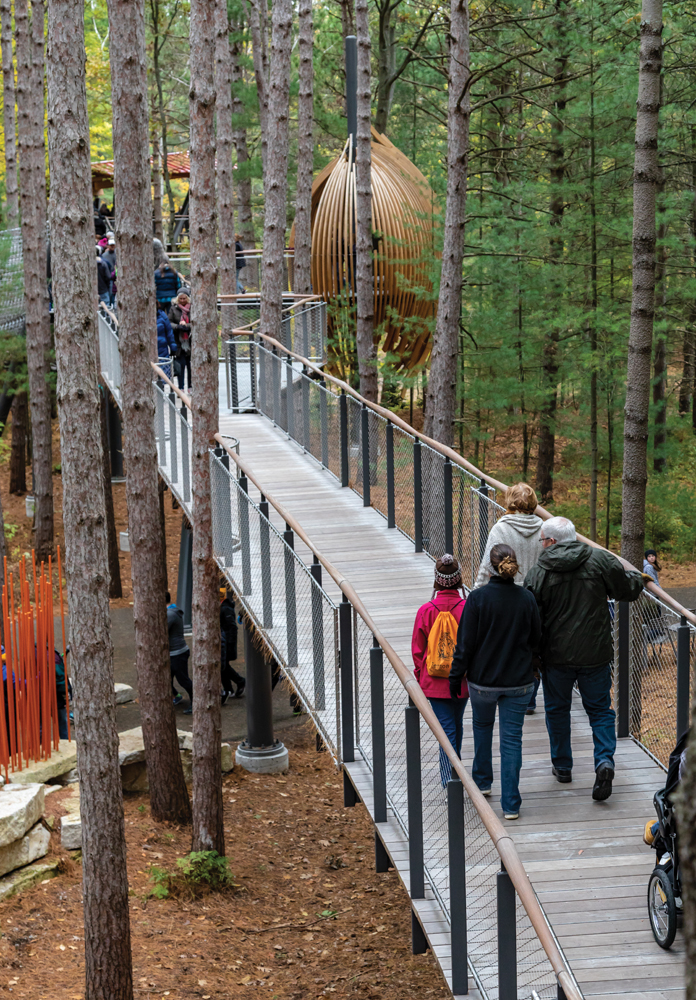 For more than 15 years, the Whiting Forest in Midland served as a modest park where locals could hike casually through native woodlands, beneath towering trees, along the meandering Snake Creek and surrounded by nature on all sides. But the forest was destined for bigger things.
After more than two years of construction and $20 million spent, Whiting Forest was transformed into a one-of-a-kind, four-season destination. It has 3 miles of trails, 1.5 miles of ADA-accessible pathways, bridges and boardwalks, a children's playground and a 1,400-foot elevated "Canopy Walk" that takes visitors up to 40 feet high, overlooking 54 acres of trails, ponds, meadows and more than 220 fruit trees.
Touted as the longest elevated pathway in the country, visitors will find unique sections that extend out into the woods including the "Spruce Arm" with its spruce tree-supported braided-cord cargo net, the "Pond Arm," which overlooks Lake Margrador and the "Orchard Arm," which boasts a glass-bottom platform at the walk's highest viewing point.
"Looking out through the trees and over the ponds is very peaceful even with all the people around," said Mina Silvernaile, who recently moved to Saginaw from Fountain Valley, California. "I love that trees are allowed to grow through holes built into the canopy walk so as to disturb as little as possible. After you get your fill of views, there is plenty of trails to walk on the ground, as well. Surprisingly, almost the entire canopy walk is wheelchair-friendly, and there is even one paved trail on the ground."
This year, an 832-foot Rose Garden pedestrian bridge will connect Whiting Forest with the 56-acre Dow Gardens property on one side, adjacent to the mid-century modern era Alden B. Dow Home & Studio. Another 425-foot bridge crosses the Snake Creek watershed and links the forest to the Grace A. Dow Memorial Library.
Herbert Henry and Grace Dow purchased their original 10 acres of land in 1899, building their family home — known as The Pines — and developing extensive gardens, orchards and parks in which they raised seven children. The house still stands and is open for tours, the heart of what has become a 110-acre campus. A budding chemist, Herbert founded the Dow Chemical Company in 1897 where he pumped brine out of the earth and extracted chemicals like bromine, which was sold to industrial companies to make a variety of household products.
Today, the Herbert H. and Grace A. Dow Foundation — established in 1936 — is one of the largest family foundations in Michigan. It is through the legacy of these two philanthropic leaders the Canopy Walk and its neighboring natural attractions exist, thrive and grow.
"What is now Whiting Forest was my backyard as a kid. My brother and I spent countless hours there, climbing trees, catching frogs, skating on the ponds, even building our own cabin — we created our own adventures," said Macauley (Mike) Whiting Jr., president of The Herbert H. and Grace A. Dow Foundation. "When conceptualizing the Whiting Forest project, we focused on how to bring that childhood experience to others and how to instill in people an appreciation of nature. The idea is to get people outside, away from computer screens and hectic lives. There is something innately good for you in a forest. It's good for your soul."
---
For Your Information
Admission to the Dow Gardens includes Whiting Forest and the Canopy Walk, which are open every day except Thanksgiving, Christmas and New Year's Day. Day passes are $10 for adults and $2 for children ages 6 and up (including college students with a valid ID). An annual pass is $20 per person. For more information: dowgardens.org.
Facebook Comments