Great Lake Story 2019: Walloon Lake
---
The final chapter of the 2019 Great Lake Story fully unveils "Turquoise Tranquility," the custom Petoskey home of Liz and Mike Pulick, located on Walloon Lake. Earning its name from both the striking blue waters near which it resides, as well as the serene elements of the home itself, "Turquoise Tranquility" is a paragon of craftsmanship and collaboration.
Visit northern Michigan and you'll immediately feel transported to a different world. The lakes sparkle a little brighter; the terrain is more diverse, with sweeping dunes and lush, green valleys; the people are hardier, thanks to heavy snows and long winters; and life is, in a word, simpler.
There's truly something distinctive about Michigan's Up North and its residents, and when the Pulicks decided to build their summer vacation home on Walloon Lake, they encountered that firsthand.
While some wondered if they'd get the same level of quality workmanship as they would if they built in a big, metropolitan area, the Pulicks believe the final result is superior. Having worked on their home in Florida and other remodeling projects over the years, the couple are no strangers to the process.
"The people here cared more and had a higher standard of dedication. It's their work ethic, the pride they have in what they're doing, and a love for the service they're providing," Liz says. "They went beyond for us and made it really special."
"Special" is a word that has echoed through many conversations with the Pulicks about their new home. It's in the in the setting, the layout, the details, the relationships, and the overall experience.
If there's a secondary theme — and there absolutely is — it would be functionality. When the Pulicks set out to build their home, one of their objectives was to be able to live almost entirely on the first floor —keeping in mind not just their needs today, but how those would change as they age, especially with regard to mobility.
"There was a lot of thought put into making the house pretty easy for living," Mike says.
Liz adds, "As a mechanical engineer, I find space-planning and functionality important, so I designed little features throughout to maximize the space and allow for everything to be easily and readily accessible."
And, finally, there's comfort. "We really wanted a warm, relaxed feeling in the home, and I'm not able to tell you exactly what it is, whether it's the colors or textures or furnishings, but people who come to our house always comment about how comfortable it is," Mike says. "We wanted a place where we could have family and friends spend time with us, enjoy the lake, and just enjoy spending time together."
This special, functional, comfortable home came to life through the remarkable teamwork between Liz Pulick, Nick Liebler of White and Liebler Architects, Eric Render, Jason Sheffler, and the many craftsmen of Render Construction, Thomas and Milliken Millworks, Bulmann Dock & Lift, Old Mission Windows, Wolverine Cabinet Co., Buist Sheet Metal, and the Pulicks' interior designer, Kelli Sultan of KVS Interior Design in Fort Myers, Fla., who was integral in creating the home's signature ambiance.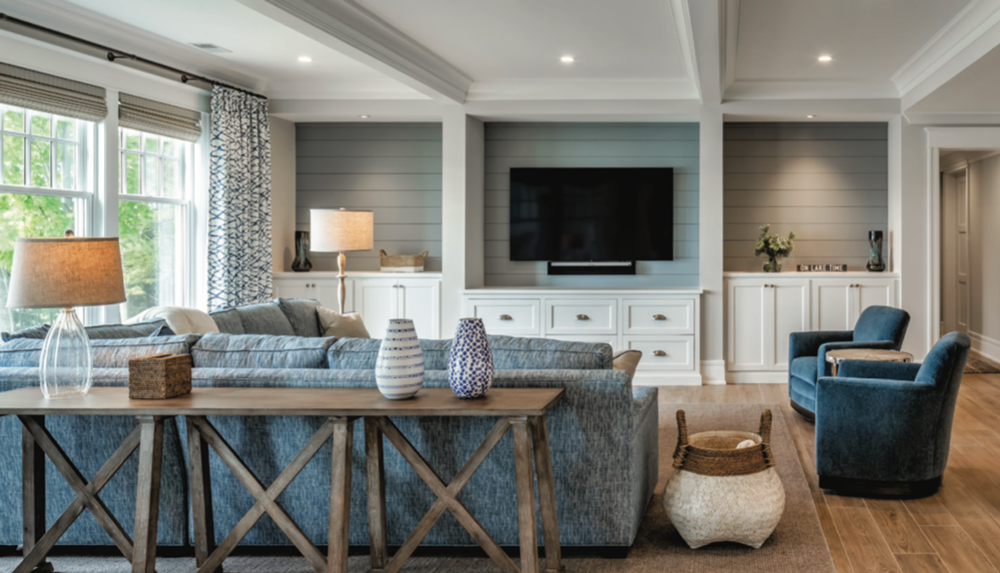 The project began with choosing an architect and builder — a process that was smoother than expected. "We only interviewed one architect because when we met with White and Liebler, we had an instant connection," Mike says. "You just know sometimes when someone really gets what you're looking for, and you're going to enjoy working with this person — and that's the way it was with Nick Liebler."
Although Render Construction wasn't the only builder they interviewed, the Pulicks were struck by a couple of qualities they saw in Eric that were unique, making him their obvious choice.
"For one, he seemed to have a really good handle on the numbers and the business side," Mike says. "Our experience has been that there are people who are really good carpenters or they really understand what it takes to put a house together, but the financial piece of it just kind of happens."
Render was able to provide both the business savvy and the skilled- builder aspects they wanted. In the end, he completed the project on time and within the couple's budget.
In addition, he was willing to begin construction within the Pulicks' desired timetable. "We were trying to make sure we got into this house (last) summer, and the only way to do that was to dig the foundation before the final drawings were done," Liz says. "Not many builders would be comfortable doing that, but Eric said he'd figure out a way to work with us and Nick to make that happen."
By the summer of 2019, the finished home sat effortlessly amid the trees and upon the shoreline, as if it were always meant to be.
But, of course, it didn't happen without the devotion of the many players who came in and out over an 18-month span, putting their marks on the property and transforming a challenging lot into a fluid domain.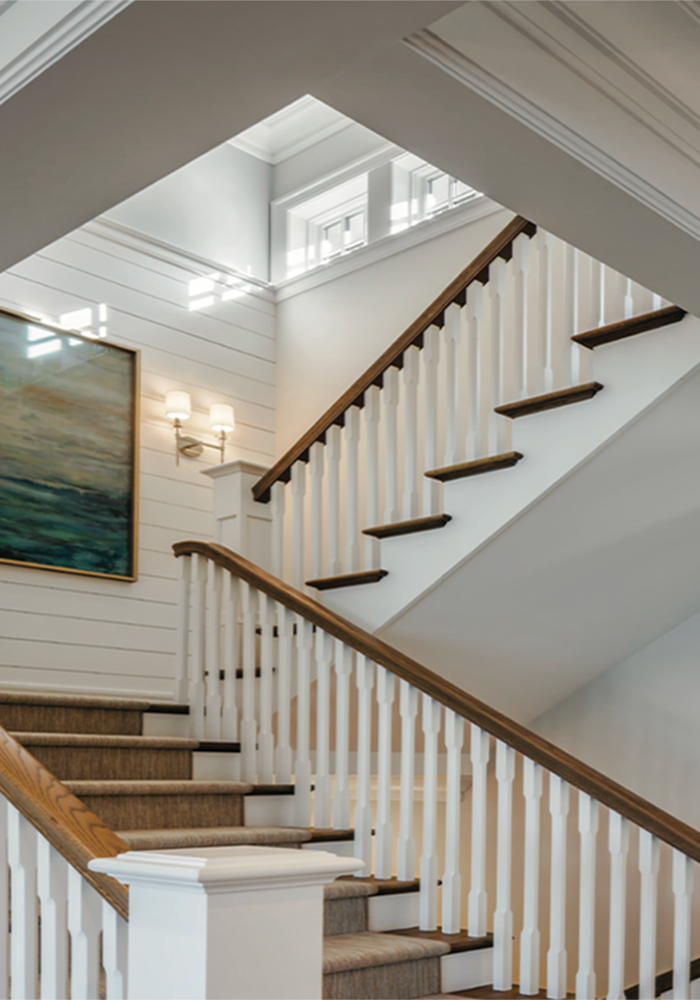 "A lot of people take for granted how easy it is to just come in the driveway and get to our house, and how easy it is to walk down to the lake, but if you were to see how the lot was filled and how all those rocks were placed one by one by people and machines, it's really incredible," Liz says.
As visitors approach the home, they're taken down a gently sloping drive that opens to a view of the lake — not just on either side, but directly through the front entry — a design detail Nick Liebler hatched and nurtured until the home's completion.
"Mike and I knew we wanted this to be a lake house, and we were excited about this lot being up on the hill. While it created access issues, it provides views that are amazing," Liz says. "Nick was thinking about the views every step of the way, and I didn't realize how much of an impact that was going to have on the final product." Once inside, the open floor plan the Pulicks desired presents itself, flowing smoothly from living to dining to kitchen to patio. "We really wanted this whole space, including the outside, to function as one and be a comfortable family area," Liz says. "We've had multiple occasions where somebody's watching a football game, people are playing cards at the table, and somebody's working in the kitchen, but we're all together and that's the really nice part of it."
Both the breakfast nook and porch serve as seamless extensions of the main area, from the coordinating chairs and upholstery to the matching paneling and columns. And what can't be seen further expands the space. There's storage in obvious features such as cabinets, closets, and built-ins, as well as surprise drawers and doors, making use of every corner and every fixture.
While the master bedroom and bath are located on the main level, guest rooms upstairs and an office and secondary family and entertainment room downstairs make use of the home's three floors — and provide additional spaces from which to take in Walloon Lake's glory.
Standing in any room, it's impossible to imagine the design and building challenges that certain elements of the home and terrain presented. That's thanks to the willingness of every team member to persevere and tap in to their own ingenuity.
"It was great to walk into a meeting and see people that engaged and excited about figuring out how to solve a problem," Mike says. "Nick, Eric, Liz, and Jason, the site supervisor, worked together so well, and I think the tradespeople saw that cooperation and so they worked together, too."
Beyond determination, there was obvious joy that each craftsperson conveyed while working on the home. "They don't often get to work on a project like this," Liz says. "It was exciting for us to witness this rare opportunity for them to fully use their skills to showcase their talents."
Today, "Turquoise Tranquility" stands as a testament to the power of highly capable, enthusiastic people coming together to create a vision, and bringing to fruition a first-generation summer vacation home the Pulick family will enjoy for decades to come.
"Most people won't say they would want to build a house again. We feel like we've built our perfect home, and there's nothing we would change or do differently," the Pulicks say. "But, if we had to do it again, we would choose the same team. We love the fact that it was designed by us and for us, and we'd do it all over and work with them again in a heartbeat."
---
2019 Great Lakes Story Sponsors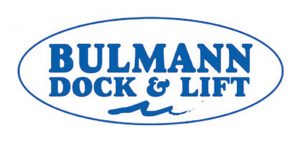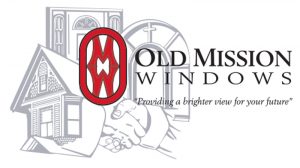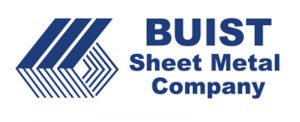 Facebook Comments