Great Lake Story 2012: The McCullough Residence, Gun Lake
Chapter One | Chapter Two | Chapter Three | Chapter Four | Final Chapter
---
Clients: Mike and Karen McCullough, and their two teen-age daughters.
Location: Gun Lake. Southwest Michigan's largest all-sports lake looks like a butterfly.  Loosely shaped by coves and bays, its 2,680-surface-acre wings spread into Yankee Springs Recreation Area, a four-season state park and vacation haven since the 1800s.
Notes: Gun Lake is where Mike grew up, and where he and Southfield native Karen happily spent the first decade of their married life in a small house built from a home plan book. But the family's need for space grew with their love of the outdoors, and they moved to Middleville before the girls started junior high. When the oldest left for college, the couple returned to Gun Lake with plans to find or build a cottage closer to home than their lake house in Manistee — but found an extraordinary piece of property that inspired a new year-round residence.
Goal: Together with waterfront design specialist Jeff Visser, we crafted a timeless home that adapted to the family's evolving needs, inside and out.
---
Reflections on Gun Lake
The panoramic lot had enamored Mike and Karen McCullough the first time they saw it from a friend's boat: 320 feet of sweeping frontage, aligned with a wild island in a recreation haven that already felt like home.
---
A plan that flowed in sync with how the casual family lives drove design as well as the unique property's crescent perimeter. Waterfront home design specialist Jeff Visser studied window placement for the curved site extensively with Schaap Builders to wrap the home with a panoramic vista of Gun Lake, along with multiple indoor/outdoor living spaces for the McCulloughs to enjoy it.
"We spent our first summer playing on the lake and getting settled in, hanging out with old friends and new friends." shared the owners. "Because of the beautiful weather, our favorite spot to hang out was the covered porch, enjoying some wonderful sunrises and watching all the boats."
Corbels, brackets and columns are custom architectural details by Benchmark Wood Studio, Inc. Shingles: James Hardie Cement Board in nature-inspired, custom color. Trim: Custom color on natural cedar.
---
Laying the Land
"One of the most challenging aspects of this project was the large amount of hardscape in front of the home to accommodate two three-car garages and the main entry," said Rick Timmer, vice-president of Landscape Design Services, Inc., who realized Mike and Karen's request for simple, natural surroundings. "On top of this the lot was somewhat narrow so we had to use the area we had to the optimum."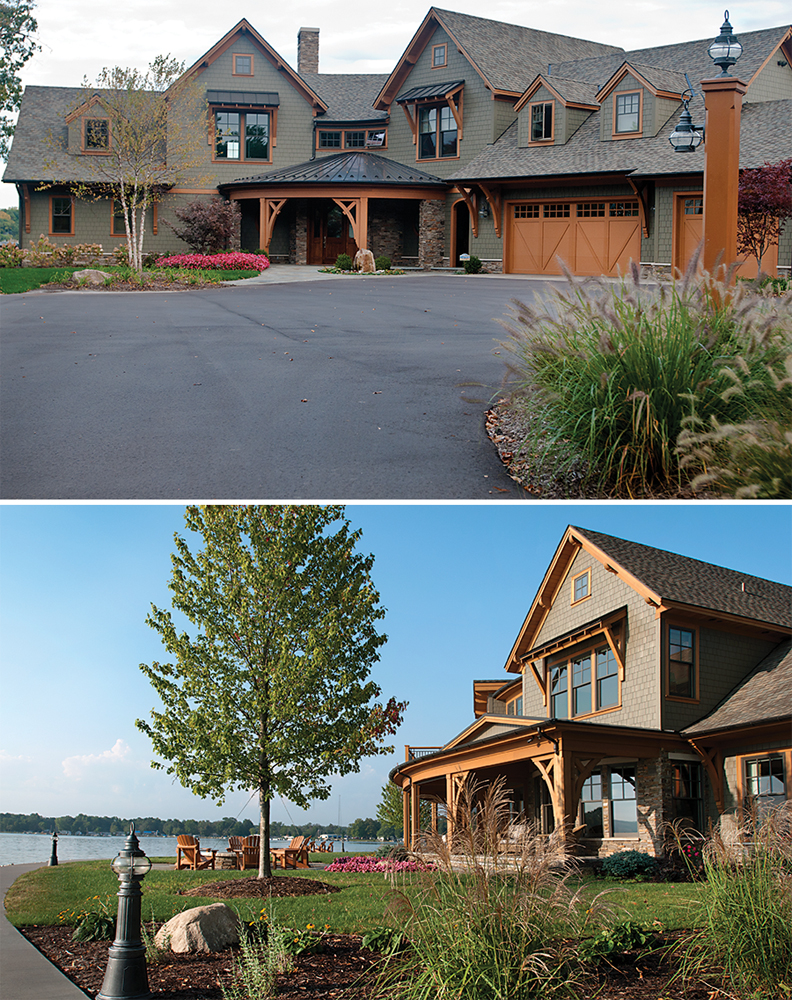 The firm contoured the land to raise four 20- to 25-foot house-framing Serbian spruce well above the high water table and planted 20-foot birch to soften the hardscape. Two red Japanese maples were also chosen to brighten and soften the home's front exterior, along with four large shade-offering maples lakeside to give the residence scale from the water. "Smaller trees wouldn't have worked since this is a tall home that can be viewed from a long distance," Timmer noted, adding that larger plant material also helped settle the house onto the lot.
While summer color was infused with hydrangea, knock-out roses, annuals and perennials and ornamental grasses were dispersed to lend a relaxed cottage feel, landscapers echoed the home's bluestone pattern on a fire pit walkway and set river birch along the drive to border the property line.
"We also incorporated Karen's idea of a rock fountain at the front entry," Timmer said, "something that was both interesting yet not of size to detract from the home's architecture."
---
Featuring a gas starter, the custom fire pit hand-crafted by artisans from Potts Masonry is comprised of full-depth bluestone to ensure longevity. Complementing porch and patio by Potts Masonry are equally unique: The random look is achieved through use of seven different sized, full-color blend bluestones laid with solid concrete bed joints almost never exceeding 1/16-inch for a mortar-free, weather-resistant presentation. "The pattern is also completely custom," noted artisan Matt Potts, "meaning that the same combination of stones is never repeated."
Laid by Potts Masonry, custom-blend stone on the home and chimney is 20 percent quartzite, which adds reflective sparkle. Custom cedar brackets and corbels featured in the roof structure exemplify the distinctive architectural artistry and motto — "Wonders in Wood" — of Benchmark Wood Studio, established by Mike Schaap Builders, Inc.
Outside of the screened porch, a designated grilling area (appliance from Bekins, Inc.) provides convenient shelter.
---
A Great Gathering Room
A spacious kitchen/hearth/dining space designed by Jeff Visser in collaboration with the homeowners, Schaap Builders and Benchmark Design Studio is the main level's hub, meeting the McCulloughs' wish for an inviting, spacious gathering area for daily use and entertaining.
"No one ever leaves the kitchen," shared Mike and Karen, "so we wanted to make it our family room, too."
Hearth Room
"For centuries, a hearth has been noted as an essential room of the home, usually its central feature, which guided the rational for this hearth room to be located in the McCulloughs' home, along with the kitchen," noted Melissa Braden, interior designer. "Swivel chairs were imperative here in order for homeowners to enjoy the lake view, as well as maintaining an intimate connection to the kitchen."
While a cozy rug grounds the space and ottomans lend it ease and flexibility, the welcoming nook is warmed by a full-depth bluestone, two-way fireplace custom-crafted by Potts Masonry.
"Mike and Karen are so down-to-earth and comfortable that as far as the design as their home went, nothing is pretentious at all," Braden said. "Karen had a firm idea about the fireplace featuring tongue-in-groove above the mantel and stone below."
The majority of hardwoods featured in the McCulloughs' home on Gun Lake are Select & Better grade lumber as determined through a mathematically measurable, complex process for the furniture industry by the National Hardwood Lumber Association. Learn more at nhla.com.
Kitchen
Crowned by radius beams extending like sun rays from above the island out over the dining area toward the lake in sync with the home's curved perimeter, the kitchen is outfitted with custom character by Benchmark Wood Studio and high-end appliances from Bekins, Inc.
Custom drawer organizers including removable inserts to accommodate utensils, flatware and coffee pods enhance cabinetry finished in alder for warmth, glazed linen white for lightness and navy blue with glaze for a pop of interest. "The blue island ties elements from the living room and other rooms in the home together," Braden noted. "A favorite of the homeowners, this color is represented in most family spaces."
---
Cabinetry in the main level's half-bath custom-made by Benchmark Wood Studio, Inc. complements navy blue elements in the kitchen and in other spaces throughout the home. Faucet fixture was selected through Genzink Plumbing, Inc., whose seasoned team of design specialists, plumbing specialists and interactive, registered Kohler showroom have helped the business earn Best of West Michigan" by the Holland Sentinel every year since 2008.
Designed by interior designer Melissa Braden and built-to-order by Benchmark Wood Studio, Inc., this custom furniture piece features the homeowner's collectibles in the foyer.
---
Appliances provided by Bekins, Inc. include a fully-integrated SubZero refrigerator with freezer doors, Jenn-Air gas cooktop, Wolf double ovens, Miele dishwasher, and convection steam and speed ovens.
Custom-designed dining table by Benchmark Wood Studio, Inc. features a highly distressed, wax-finished alder top laid to "ray" out from the center with one 24-inch-wide leaf. Benchmark Wood Studio artisans also provided for the space a hand-buffed, waxed built-in alder office desk with cabinetry.
---
Designed by Jeff Visser, the MCulloughs' inviting living room features a knotty alder, reflective stepped ceiling with walnut inlay, which is echoed in the master bedroom. Alder wainscoting and stained alder crowns and interior trim were also crafted by Benchmark Wood Studio, Inc. artisans, as was the room's hand-carved, custom walnut armoire with painted tongue-and-groove back panel, nautical rope detail and fine-furniture finish.
While sconces are by Visual Comfort & Co., the unique pendant is a custom design created by the homeowners and Benchmark Design Studio, Inc.
"Custom Wedge Ottomans by Lee Industries create one central upholstered surface or break up into four sections/additional seats to accommodate family and friends when entertaining," said interior designer Melissa Braden. "Custom sofas by Sherrill also provide deep seating and plenty of comfort for the family."
---
Automated for Easy Living
Through Grand Haven-based Bekins, Inc. — ranked by the trade as one of 2012's Top 100 custom electronics integrators nationwide — the McCullough residence is equipped with the latest in home technology, from video distribution and iPad control of the audio system to complete lighting control: Nearly every can light, sconce, lamp, and landscape light is controlled by the Lutron HomeworksQS System.
---
Custom-crafted alder cabinetry and mirrors by Benchmark Wood Studio, Inc. are complemented by Persia Brown Granite countertops, light fixtures from Visual Comfort & Co. and Colonial Bronze hardware. Faucet fixtures available from Genzink Plumbing, Inc.
Enhanced by alder wainscoting and several custom crowns, the master bedroom's knotty alder stepped ceiling finished with stained micro-bevel tongue-and-groove is up-lit with LED ambient lighting by Town and Country Group.
"(We) partnered with Mike Schaap Builders to provide electrical infrastructure of the entire property," said Casey Veersma, residential supervisor for the company. "Working alongside Benchmark's design team as well as Bekins, Inc.'s A/V, we were able to give the McCulloughs more than just lighting and outlets. We were able to showcase and enhance the craftsmanship and unique details of Mike Schaap Builders with lights, as well as give each area a personality all its own."
The master bedroom also features custom bedding and draperies, bed and nightstand by Lexington, table lamps by Visual Comfort & Co., and plush wool carpet from DeGraaf Interiors, one of West Michigan's largest fine flooring retailers and only authorized Stainmaster Flooring Center.
---
"We worked with the McCulloughs over the course of three evenings to set the light levels in every room as well as create 'scenes' that activate multiple lights with a single button press," noted said Bekins IT Director Charles Curry. "The lighting system is clean, uncomplicated, and designed to the exact specifications of Mike and Karen — and if they ever want to make changes to the system, we can do it remotely from our office."
The system also includes 42 automated shades activated by one button touch that manage sunlight and provide UV protection to the home's interior.
---
This multi-functioning upper-level family room — equipped with kitchenette and private balcony and flanked on either side with full-bath/bedroom suites — provides a serene and inviting retreat for the McCulloughs' two college-age daughters or guests. A dramatic knotty alder barrel ceiling with stained micro-barrel tongue-and-groove accent crafted by Benchmark Wood Studio spans the entire space's length and enhances a view of the wild island in Gun Lake beyond. The spacious living area and private suites — including a bunk room with extra day bed and sliding barn-style door made by BWS — are also designed with the girls' future families in mind.
"Lighting control through Bekins, Inc. is included in these spaces to accommodate perfect light levels for all activities," said Braden. Nautical light fixture in family room is by Vaxel.
---
"The Benchmark Design Studio team thrives on customizing each and every detail for homeowners," noted Melissa Braden, who oversees this group's unique creations including this stained walnut newel post on the McCulloughs' made-to-order staircase.
---
Builder Mike Schaap began sharing the McCulloughs' journey home in Michigan BLUE Magazine Spring Issue 2012.  To read previous chapters of this Great Lake Story, visit mibluemag.com.
Facebook Comments