If you're like us, you can't wait to turn the page on 2020 and forget all the stress, pain and heartache the previous year has brought us.
2020 didn't allow us to explore our wonderful state like we normally would have, but it still offered a plethora of interesting people and places to read about while we quarantined at home.
From a relaxing stay at an Upper Peninsula lodge to a pickle barrel-shaped museum that once sold food products and souvenirs, here are the top 10 most-read stories of 2020.
By Dianna Stampfler
Travelers once again are heading to the heart of the Upper Peninsula for rest and relaxation at the historic Birch Lodge on Trout Lake. 
Designed by Dr. Edgar Ford and constructed by H. Emery as the Birch Lodge Hospital and Summer Resort Sanitarium (also known as the Trout Lake Sanitarium), the expansive 10,000-square-foot main building opened in 1912 following Ford's unexpected death. His wife Cornelia and their sons were only able to run the massive property themselves for three years before transferring the mortgage to the next in a series of owners.
In 2019, two couples who had never met and in fact were both trying to acquire the property joined forces to preserve Birch Lodge. These four individuals had one common goal — to welcome guests back to this unique and impressive resort (listed with both the National and State Registers of Historic Places).
By Jeanine Matlow
Not all online searches for lakefront living lead to such a high-caliber home, but that is precisely what happened with this architectural gem in Harbor Springs. Designed by famed architect Richard Meier and completed in 1973, the stunning Douglas House (named after the original owners) defies all odds with its stark white exterior perfectly perched on a steep bluff with sweeping views of Lake Michigan and the surrounding landscape.
In addition to its prominent past, the award-winning home now has a splendid present and a bright future due to a true labor of love by the current caretakers, retired executives Michael McCarthy and Marcia Myers, who acquired it in 2007. Despite the deteriorated condition upon their arrival, the couple fell hard for the compelling architecture and striking aesthetic as well as the spectacular lakefront setting. Since then, they have taken on a number of major restorations to update key features like the expansive windows, the entry bridge and the heating, ventilation and air conditioning.
By M. Christine Byron and Thomas R. Wilson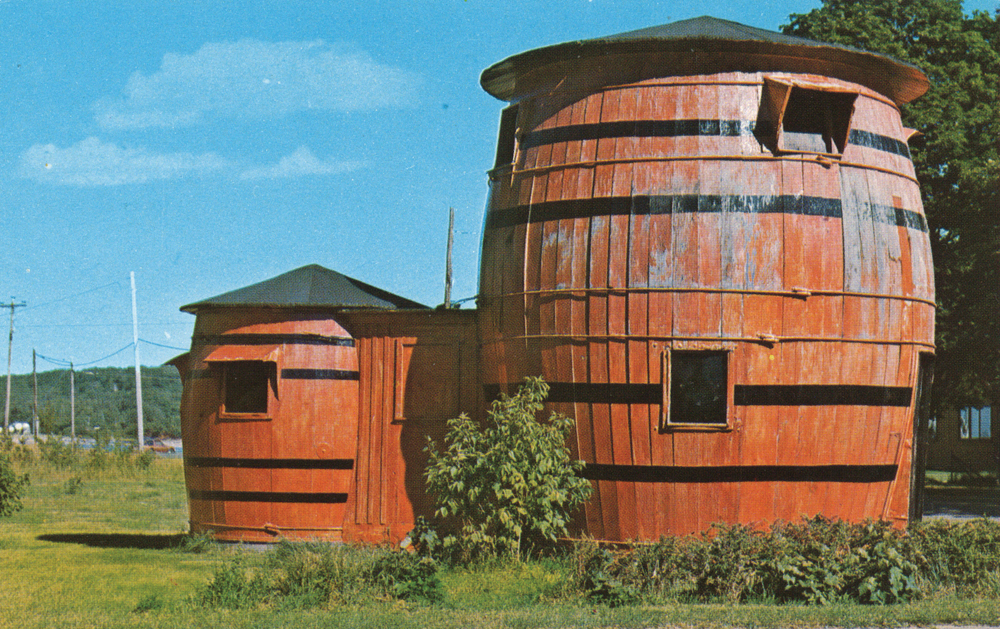 The Pickle Barrel House in Grand Marais is a wonderful example of "Pop Architecture" in the tradition of novelty structures. Some examples from Michigan's past include the Windmill Gas Station in Holland, the giant milk bottle at the Asselin Dairy in Norway, and Hedge's Wigwam Restaurant in Royal Oak, now all gone.
One other barrel-shaped building that survived is the Douglas Root Beer Barrel, which had been closed for some 40 years, but was saved by the Saugatuck-Douglas Historical Society and reopened in 2018, selling root beer, hot dogs, and snacks.
The Pickle Barrel House is unique in that it was built as a house, but it also served as a promotional, advertising piece. The unusual structure was built by Monarch Foods, a division of the Reid-Murdoch Corporation of Chicago for author/illustrator/cartoonist William Donahey and his wife, author Mary Dickerson Donahey. William Donahey was known for his popular Sunday cartoons of the "Teenie Weenies," which were widely syndicated since their debut in the Chicago Tribune in 1914. The Teenie Weenies were a self-sufficient group of courteous, hard-working two-inch-tall "people" dealing with life in a world sized for humans.
By Jim DuFresne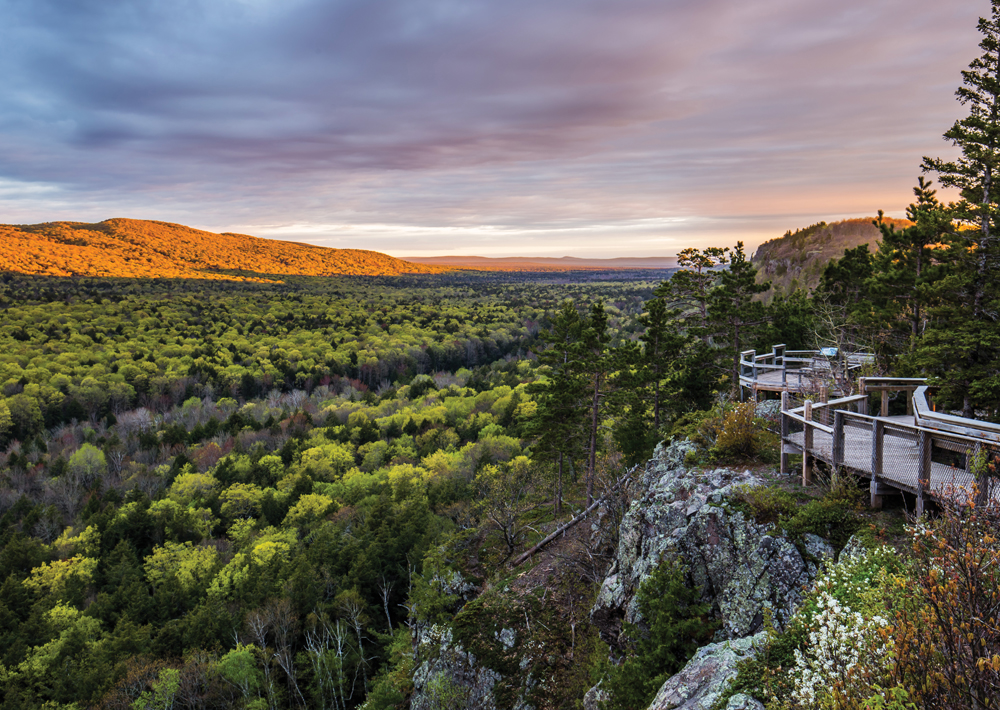 There was a snafu with the cabin keys. Somebody forgot to pick up the set for the eight-bunk cabin on Mirror Lake before our backpacking trip into the Porcupine Mountains. Only, we didn't discover it until we had reached the six-bunk cabin at the mouth of the Big Carp River … 7 miles from where we hiked in, 10 miles from where we left the other vehicle, a 4-mile walk just to the nearest road.
That startling discovery gave us the same sinking feeling a skier has after twisting an ankle, miles from the trailhead. In the middle of Michigan's most rugged corner in the western Upper Peninsula, we were without tents, sleeping pads or the key to the next cabin.
Time to make do. A couple from Chicago were gracious enough to let us spend an extra night in the cabin on the Big Carp River. Then the next day we did a 10-mile trek through the heart of this 61,000-acre state park in a driving rain, wearing full packs.
By Bob Gwizdz
Ryan White remembers exactly how he became a fishing guide. He was working construction — because he never could land a full-time job in wildlife management, which he studied at Michigan State — and one of the guides on the river he fished had a two-party booking and needed someone to help him.
"I got hired because I had a boat and heartbeat," White said.
But he also knew how to catch 'em, and after his first trip, when he successfully put his clients on fish, the guide asked him if he wanted to work again the next day. Twenty years later, White, 49, hasn't done much else since but work as a fishing guide.
By Greg Tasker
Few people are as intimate with Fishtown as Bill Carlson.
Long before the cluster of wooden shanties began to rise along the banks of the Leland River in the early decades of the last century, Carlson's great-grandfather and grandfather were fishing the bountiful waters of Lake Michigan, netting lake trout and whitefish along the coast and around the Manitou and Fox islands. His father and uncles would eventually pursue commercial fishing as their livelihood.
And Carlson, beginning as a boy at age 11, followed in their wake, initially working along the shore, helping to reel in nets, before joining the crew on the Good Will, a wooden tug. In his late teens, he toiled long hours in the summer, often working from dawn to well beyond dusk, helping dress the day's catch on the way back to the shanties of Fishtown.
By Greg Tasker
There's a good chance the hops in one of the Michigan craft beers you're sipping this autumn came from a bucolic farm on the Leelanau Peninsula in the northwest corner of the mitten.
That farm would be the Michigan Hop Alliance outside Omena, about 45 minutes northwest of Traverse City. It is both a farm growing more than a dozen hop varieties on 30 acres and a merchant that processes and supplies Michigan-grown, domestic and imported hops to nearly 4,000 brewers in the U.S., Canada and Mexico.
"We pretty much sell to everyone in Michigan except Bell's Brewery and New Holland Brewing Company because they're so big," said Brian Tennis, who established Michigan Hop Alliance with his wife, Amy, a decade ago.
By Christopher Winters
Throughout a creative life that spans nearly half a century, Michigan-based maritime artist Robert McGreevy has quietly evolved into something of a freshwater renaissance man.
Considered one of the Great Lakes region's "living masters" by curators and collectors, McGreevy breathes life into historic lake vessels above and below the not-always-placid surface of America's inland seas.
McGreevy has deliberately broadened the scope of his work over the past four decades, becoming not only a master of watercolor and oils but a rigorous historical researcher, nautical collector, lighthouse society booster, museum-caliber scale ship builder and, lately, Great Lakes shipwreck detective.
By Dianna Stampfler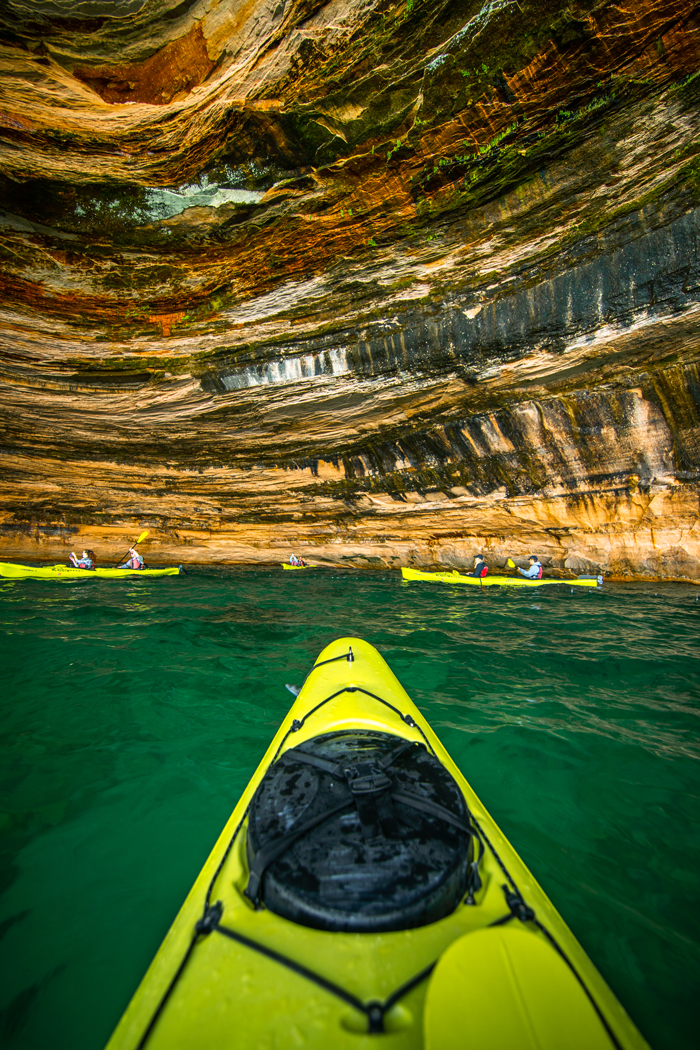 Paddling beneath the towering sandstone cliffs of the Pictured Rocks National Lakeshore got a little easier last summer once the new 64-foot Kayak Express hit the water. The custom-built kayak tour vessel operated by Pictured Rocks Kayaking in Munising allows two kayaks to be launched or retrieved at the same time on the open waters of Lake Superior.
It is the second kayak tour boat in the company's fleet and the first of its kind on the Great Lakes. It was built by Moran Iron Works in Onaway.
Kayak Express transports paddlers, kayaks and their gear to prime paddling spots along the rugged and beautiful national lakeshore. It is fast, wide and stable, able to handle the fluctuating waves of Lake Superior.
By Jeanine Matlow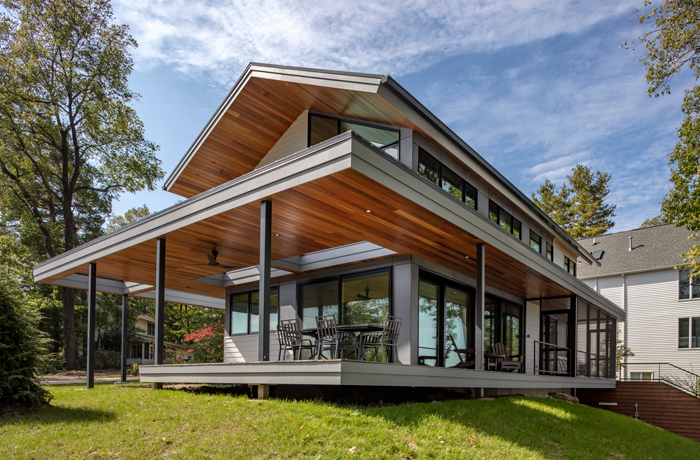 For many Michigan leisure seekers, seasonal stays and scenic settings often go hand in hand. Such is the case for Catherine "Cahssey" Augenstein, who has spent summers on Gun Lake in Middleville since she was a kid. Now, she and her husband Don, who currently live in Cleveland, have their own special getaway for memories to be made, a custom cottage that embodies past, present and future. Situated on the Hastings Point peninsula adjacent to the Yankee Springs Recreation Area, their new build has an added perk with her siblings next door and their dad two doors down in houses that have been in their family for generations.
Guided by Cahssey's personal ties to the area, she and Don acquired the original cottage on their property when it became available in 2004 and where they lived until 2016. When it came time to rebuild, however, they had a hard time seeing past what they had. Cahssey credited Mathison | Mathison Architects in Grand Rapids with nudging them to another level.
Facebook Comments