Great Lake Story 2013: Pier View Cottages, South Haven
Chapter One | Chapter Two | Chapter Three | Chapter Four | Final Chapter
---
A great sense of satisfaction at Mike Schaap Builders comes from working closely with our clients to fulfill their dreams on an individual basis. But it also comes with the completion of our first "available to own" home at Pier View Cottages, crafted in collaboration with Visbeen Architects, LLC and Benchmark Design Studio, Inc.
Recognizing the rare opportunity presented by this new master-planned community's exemplary Lake Michigan location, our goal as exclusive design/build team was to honor the first of Pier View Cottages' seven sites with extraordinary living spaces that play to all it offers.
Mike Schaap Builders' long history of building quality custom lakefront homes with award-winning Visbeen Architects enables us to draw on the best of each other's expertise: Artfully blending design with architectural aspects, their innovative home designs create a synergy that lets us take projects over the top.
Gradually sloped by developers for easy access to private beach, this Lake Michigan property within sight of South Haven's historic pier light is also within a leisurely stroll to downtown's inviting parks, restaurants, shops, museums, pathways, farm market and bustling marina.
Attention to detail is our extensive team of craftsmen's forte, and while Mike Schaap Builders exceeds the standards to ensure solid structural stability along the shore, the team at Benchmark Design Studio, led by Jodi Medina, incorporates distinctive design elements throughout the meticulous build process.
The result on Lot 1 at 872 Monroe Blvd. in the nationally-recognized port city of South Haven is a quintessential beach house nestled along Lake Michigan, designed to accommodate any family at every stage of life.
It also presents a clear vision of custom-crafted possibilities for the few remaining available Great Lake sites at Pier View Cottages.
A Real Sense of Welcome
"Although this community is called 'Pier View Cottages,' these are lake homes in every sense of the word, but they're efficient," notes architect Wayne Visbeen, AIA, IIDA. "They're right-sized. There is a great balance of exterior and interior space and a lot of surprise in this charming lakefront home with its cottage-like elements."
From the moment you enter the glass-enveloped foyer, you're drawn to the Great Lake. An open floor plan making brilliant use of high DP-rated, weather-resistant windows throughout all three levels creates an organic quality to shoreside living, making ever-changing aspects of Lake Michigan and shifting radiant light integral to each space.
Uniquely designed to enhance outdoor living between the foyer and dining room, a U-shaped courtyard on the northwest side is sheltered from prevailing Great Lake winds, but still affords premier views of sunset and South Haven's historic pier.
Seeing Both Sides
The main level features a Lennox Montebello See-Through fireplace from Baumann & DeGroot, Inc., a valued provider of custom HVAC systems and the highest quality, affordably-priced brand-name products. Shared by the home's outdoor courtyard and living/dining rooms,  the weather-tight unit vents indoors to retain heat but lends glowing ambiance for gatherings beneath the stars (396heat.com).
Outdoors, the courtyard's dark charcoal, light gray fire­place surround — provided by The Stone Mill Inc. — is a custom blend of dark Tawas Bay limestone, indigenous to Michigan.
"This stone is a natural thin veneer, which is real stone cut to an inch-and-a-half in thickness," notes Connie Miller, who co-founded the Lakeview company with her husband, Steve, a fourth-generation mason. "From a design standpoint, it allows installation anywhere with no footing required." All of The Stone Mill's various products are quarried and fabricated in Michigan, including over 150-year-old Soo Locks Rock (thestonemillinc.com).
Gracious Practicality
Comfortable and functional, the spacious foyer includes an inviting bench seat flanked on both sides by antique nickel sconces and tall storage cabinets with louvered doors finished in rich navy blue.
A glass table from Hooker Furniture and its cushioned triangular ottomans from Lee Industries carry out the "no blocked views" theme — consistent throughout the home — and provide additional seating, while an antique nickel pendant light hangs overhead. The home's distinctive furnishings were selected and purchased from Benchmark Design Studio.
There is plenty of space to share with friends and family, yet the home also offers unexpected areas of private retreat.

Just off the main floor's front entry, an embracing office becomes a serene spot courtesy of an oversized custom louvered barn door that slides on a track system.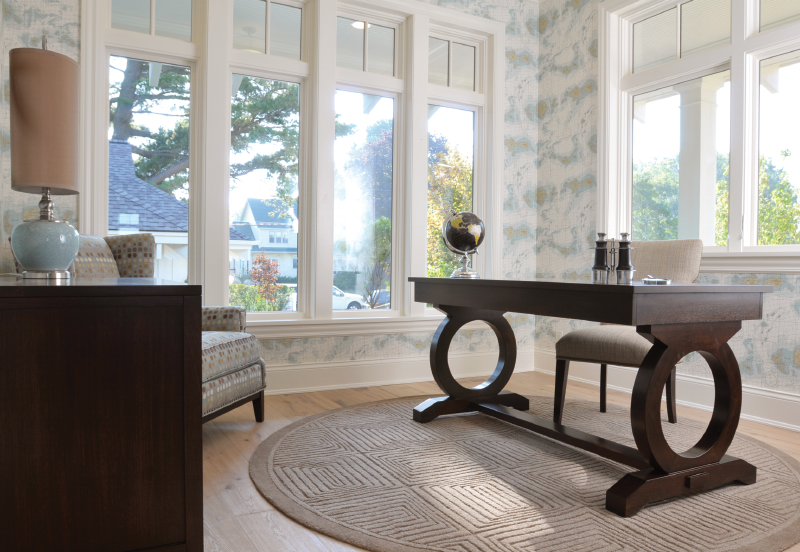 Heart of the Home
Designed for seamless transitions into the living room, dining room and outside courtyard, the spacious and inviting kitchen provides plenty of space, including a roomy walk-in pantry, to prepare everything from casual patio buffets to gourmet holiday meals.
Stainless steel Viking Premium Professional appliances — including a capacious French-door refrigerator with lower freezer drawer, a range with a six-burner stovetop and oversized oven — were selected from Bekins Appliances & Electronics Inc. in Grand Haven, ranked within the trade for 2012 as one of the U.S.'s Top 100 custom electronics integrators (bekins.us). The white Kohler undermount sink features chrome hardware and plumbing fixtures. The stylish tile inset above the range in "Cherry Cola" hue is from Alyse Edwards' Gigi Stix collection. The rest of the backsplash is done in STI's 3-inch by 6-inch Tala Limestone, all from Virginia Tile.
The airy warmth of this gracious kitchen's cream cabinetry is contrasted by a deeply stained range hood and complementary dark wine bar sideboard.
Overhead hangs a pair of framed linen-shade lanterns in polished nickel. "Cove lighting hidden in the tray ceiling is all LED tape by WAC Lighting," notes Mark Jeltema of West Michigan's Morden Electric Inc., who wired the home (mordenelectric.com). "It's a unique product offering low-glow mood lighting that reflects onto the ceiling without revealing the light source. It was also used under the kitchen cabinets."
Lutron Diva dimmers were used as well so light levels could be pre-set throughout the home. "Benchmark Design Studio designed lighting for the home," he adds. "They were specific about the light loads they wanted to control."
Savoring the Sights
Outside the window of the dining room, sunlight and waves play along the nearby South Pier in South Haven and its iconic red lighthouse. It's easy to imagine the naturally artful, ever-changing bounty of views to savor seated around this Hooker Furniture dining table, selected by the Benchmark Design Studio team.
Here on the main level, you won't find any view-obstructing walls. Rather, the fabulous beach-facing living and dining rooms, kitchen and foyer are defined by cleverly designed architectural elements built into the home's ceiling treatments. The sense of space is further defined through smart and subtle lighting installations, making purposeful use of chandeliers, recessed light fixtures, cove lighting, lamps and sconces to pick up where natural daylight leaves off.
Light choices in this open space include rustic iron and burnished wood chandeliers from the Murray Feiss Adan Collection. The glass cocktail table is by Woodbridge; sofas and chairs by Sam Moore, all in Benchmark Design Studio's British West Indies/Lake Michigan-inspired palette of blues, creams and taupes.
It's all about capturing the spectacular views from almost every room. The varying levels and heights of the ceiling treatments and hidden cove lighting help define spaces without walls.
A Top-Tier Retreat
On the upper level, the star of the exquisite master suite is a private balcony with unobstructed views of the lake. A coastal feel for this inviting getaway space is expressed through soft wall tones that make bold blue and white bed coverings from Eastern Accents a focal point.
Beyond a roomy walk-in closet offering ample storage space, the master bath features dual undermount sinks set in granite countertop honed with an eased edge. Dark stained cabinetry adds richness against walls hued Benjamin Moore's "Wolf Gray." Underfoot, Carrara Matte tiles finish off the floor.
Upper Level Refuge
The upper bedroom level includes three of four additional sleeping quarters and features "In the Loop" carpet by Shaw from family-owned DeGraaf Interiors, Inc., with showrooms in Grand Rapids, Hudsonville and Cascade as one of West Michigan's largest retailers (degraafinteriors.com).
Each bedroom was designed to maximize window placement and allow a scenic statement from every vantage point. All bedding is by Eastern Accents and JLA, selected by the Benchmark Design Studio team to coordinate with each room's distinctive Benjamin Moore color scheme, which ranges from "Popcorn Kernel" and "Shaker Beige" to "Richmond Gray." Along with timers on the bathroom exhaust fans, Morden Electric installed Lutron Diva fan speed controls for bedroom ceiling fans.
The extra-wide hallway offers its own surprises, with full-size washer and dryer hidden behind one of the oversized doors and a window seat lit by sconces featuring a custom Duralee-fabric cushion that beckons curling up with a good book or stealing a moment of reverie inspired by engaging shoreline vistas.
Life Below Deck
The lower level — outfitted with stained and polished low-maintenance concrete — is a haven unto itself. The private beach and lake beyond create an ever-changing vista on the other side of the glass-fronted great room and dining area that leads out to the beach-level patio. The roomy full bathroom includes a walk-in shower and separate tub. While children, tweens and teens alike will love retreating to a cool, cozy bunkroom that sleeps four, a convenient dressing room is also fully equipped to do laundry and offers extra space to store beach paraphernalia. The space also includes its own kitchenette so guests can enjoy their own private sanctuary.
Michigan BLUE Magazine's 2013 Great Lake Story concludes with the completion of the first of seven shore-side retreats at Pier View Cottages, which are being designed and built exclusively by a team of industry experts renowned for quality and proven lakeside expertise. For more information, call (616) 399-9925.

To read Pier View Cottages' full Great Lake Story beginning in Michigan BLUE Magazine's 2013 COTTAGES special edition, visit mibluemag.com.
Learn more about the exceptional skill and services provided by these Great Lake Story vendors:
Baumann & DeGroot, Inc. (396heat.com)
Bekins Appliance Inc. (bekins.us)
Benchmark Design Studio (benchmarkdesignstudio.com)
DeGraaf Interiors, Inc. (degraafinteriors.com)
Mike Schaap Builders Inc. (mikeschaapbuilders.com)
Morden Electric Inc. (mordenelectric.com)
The Stone Mill Inc. (thestonemillinc.com)
Visbeen Architects, LLC (visbeen.biz)
Facebook Comments