A sidewalk sign offering snowmobilers free coffee and cookies lured my group inside Grand Marais Outfitters on a blustery Upper Peninsula winter evening. Then the blue butterfly-shaped agate art and a cool flag of the region's Crazy 8 snowmobile trails hanging in the window caught my attention.
That's when owner Jeannie Kain struck up a conversation from behind her cash register about chasing a dream that led her to the shores of Lake Superior. Kain explains that she made several trips across Michigan's U.P. looking for business opportunities, but she'd never made her way as far north as Grand Marais until a real estate agent called her one day about a retail store for sale with an apartment above it.
Kain packed her car and headed to the bayside community — known as the eastern gateway to Pictured Rocks National Lakeshore — in September 2021. "I said, Where the heck is Grand Marais?" she recalls. "(The real estate agent) described the area and the business. Basically, I came to town and looked at it, and made an offer on the store."
Kain liked that she could live upstairs in the renovated historic building, which dates back to the 1890s. She also felt the call of the picturesque community, which boasts a population of about 300 residents.
"Grand Marais is such a quaint little town," Kain says. "You can drive right up to the shore and jump in the water if you want to. That's what I thought made it so special when I came here. I was so impressed by how well-kept the town is, how friendly everyone is, and how accessible everything is here."
Settled in the early 1860s, Grand Marais boomed because of its fishing and lumber industries. Today it's a year-round oasis for outdoor adventurers, thanks to its direct access to Lake Superior and nearby national park trails and attractions. The area draws hikers, paddlers, and tourists who hike the North Country Trail, fish and kayak local lakes and rivers, and explore the region's waterfalls and rock-filled beaches.
In the winter, the town is transformed into a snowy wonderland. Dog sledders, snowshoers, winter campers, and snowmobilers brave blizzards to play in the region's vast stretches of wilderness.
Come On In
Grand Marais Outfitters has the welcome sign out, and in the winter months Kain always serves hot coffee and cookies. The store sells quality outdoor apparel, equipment, and supplies for locals, tourists, sportsmen, and athletes visiting the region. Kain also rents snowshoes for people who want to explore area trails.
"It's always been an outfitters and outdoor apparel store, and we sell items so you can enjoy all four seasons of weather in Grand Marais," she says.  "My goal is to focus more on outdoor sports, fishing supplies — things that will enhance other aspects of the outdoors." She also holds packages for hikers who want to ship supplies there ahead of time for long-distance hikes on the North Country Trail.
Kain also showcases local artists, Michigan-made products, and Upper Peninsula-themed clothing, gift items, and souvenirs. Mostly a one-woman show, she continues to add items to her online store and will take phone orders and ship the goods. Agate art, wine stoppers made from tumbled rocks, and agate necklaces are among her wares.
Like many up north proprietors, Kain was ready for a change after working at the University of Michigan for nearly 30 years. She provided care for her aging parents and raised four children, who are all grown now and supported her move.
During the pandemic, she says, "I think everyone went through an identity crisis or introspection about what was important and what they wanted to do with their life."
By Thanksgiving 2021, Kain retired, sold her house in Romulus, and took possession of the building. After surviving her first year and first winter, Kain says she's learned a lot about running a retail store and living in a remote place that has snow into April.
"In some ways, it hasn't gone anything like I thought it would — but overall, it's been wonderful," she says. "The town has been very welcoming and super nice. Overall, I'd do it again in a heartbeat."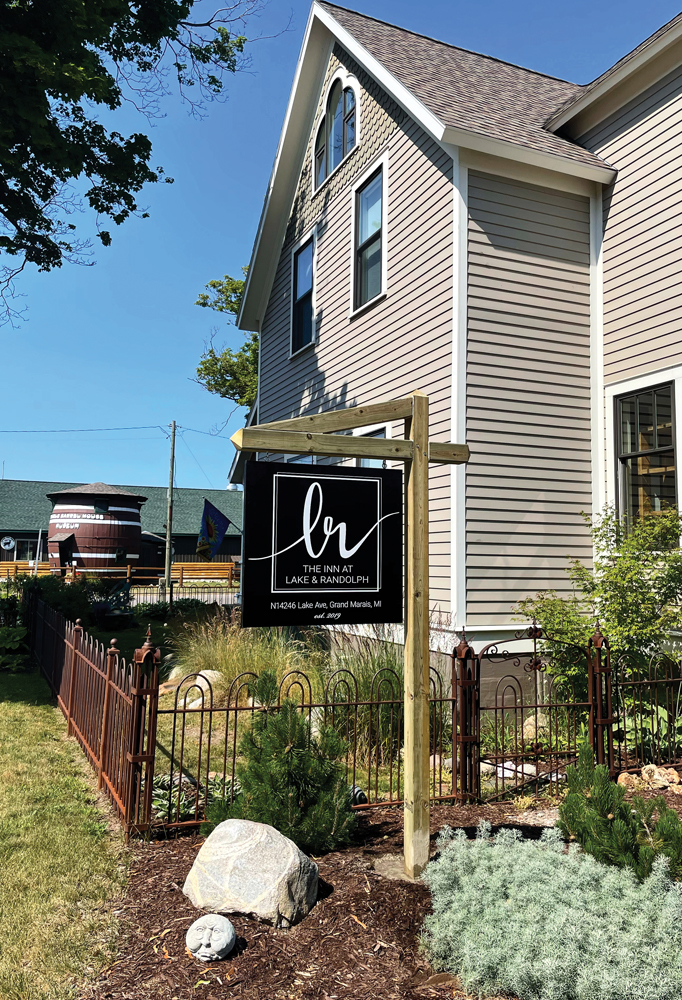 Sweet Sleep
The owner of The Inn at Lake and Randolph, 33-year-old Taylor Stice, is another female entrepreneur who recently moved to Grand Marais; she left Nashville, Tenn., to pursue her dream of owning a bed and breakfast. Stice says she grew up visiting her grandparents in Grand Marais, where her grandmother and mother now live, and she returned in 2019 to open a B&B in her grandparents' historic home.
The home was built in 1887 in Seney and was moved north at some point, Stice says. It features five bedrooms, three bathrooms, and a full chef's kitchen with a large community dining table overlooking the bay, where breakfast is served daily. Guests can enjoy sunrises and sunsets or walk to the bay, beach, and downtown businesses.
Kain and Stice agree that the region offers great opportunities to enjoy the outdoors and experience true up north adventure.
"Grand Marais is a wonderful destination year-round, from spring waterfall-chasing to summer beach days, fall colors, and winter dog-sledding," Stice says. "The outdoor activities are endless. We have miles of trails for every sport — snowmobiling, cross-country skiing, snowshoeing, hiking, biking, and ATVing, not to mention the Pictured Rocks National Lakeshore with stunning rock formations and hidden beaches."
---
PLAN IT!
Grand Marais Outfitters
grandmaraisoutfitters.net
The Inn at Lake and Randolph
lakeandrandolph.com
Facebook Comments