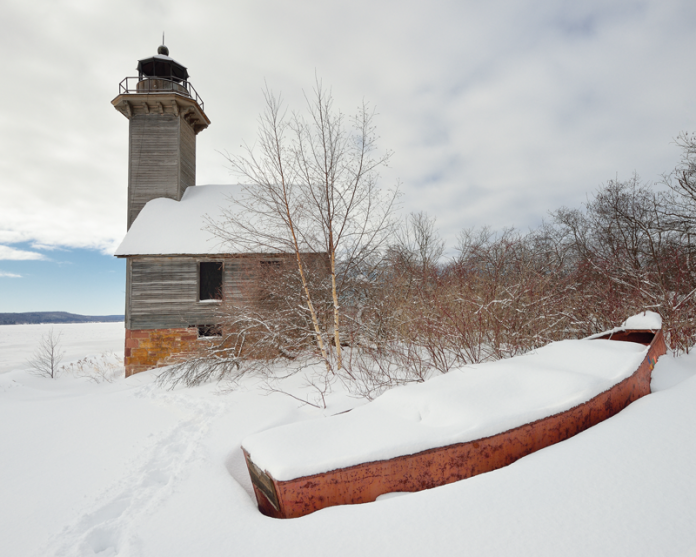 From ice caves in the Upper Peninsula to rural scenes in Leelanau County, sprinkled with glowing streetscapes, lively winter activities and some of the state's most scenic spots and unique natural formations, the following pages capture both the pristine, unbridled beauty and stark, cold landscape of Michigan in winter.
"Munising Ice Caves" – Photography by Aaron Peterson; aaronpeterson.net

"The unique sandstone shoreline of Lake Superior at Munising, long known as a summer travel destination, in winter turns into an otherworldly landscape of ice pillars and frost-feathered caves, as seen here on Grand Island. When Lake Superior freezes solid in late winter, skiers, snowmobilers and snowshoers can explore this frozen paradise."
And when you think about the science behind snow — the fact each snowflake forms from water vapor that condenses into ice inside of clouds, set adrift to float and fall through the air, twirling and tumbling to the ground with different temperatures and moisture levels that shape each snowflake in a unique way — it does seem a little like magic. 
"Little Red Schoolhouse with Falling Snow" -Photography by Mark S. Carlson; markscarlson.com

"The famous scene along M-22 near Leland; I've always considered it to be the definitive Michigan Christmas card, especially with the holiday wreaths in the windows and falling snow."
Enjoy the spirited festivities, the small town charms, the magic and wonder of winter recorded by these Michigan photographers. Hopefully, their images will warm your heart and renew your appreciation for this water winter wonderland. ≈
"Farm Scene, Suttons Bay, Winter"
Photography by Mark S. Carlson; markscarlson.com

"West of Suttons Bay, this gorgeous barn and farm scene is always a favorite of mine in every season. Framing it from the old fence line, with sprigs of bittersweet still intact, seemed a fitting perspective. It conveys the stark, cold landscape of winter in the Leelanau."
"Frigid Sunrise at the Ore Dock, Marquette, Michigan" – Photography by Greg Kretovic; michigannaturephotos.com

"A beautiful Lake Superior sunrise on a sub-zero January morning. The Great Lakes freighter Michipicoten is docked and awaiting a load of iron ore."
"Amish Buggy in Winter" Photography by Gary Gee; photographyupnorth.com

"This photo was taken last winter in the Amish community north of Mio. Sunday church is sometimes held at individual Amish residences and can change from week to week and from house to house. This buggy was leaving church on a Sunday during a late morning snowstorm."
"Frozen on the Breakwall" – Photography by Scott Castelein; lakestreetmedia.com

"A frozen wave lies dormant on the breakwall as the lights of Petoskey illuminate the night sky."
"Lit" – Photography by Todd Reed; toddandbradreed.com 

"Rochester is so lit up for the holidays this December night that it looks like Las Vegas has come to small town Michigan. I have driven about 250 miles and then have waited several hours to take in this unimaginable view. My camera and tripod are mounted on the top of my pickup truck. I use my remote trigger to open the shutter to begin a long exposure that will record the movement of taillights and headlights traveling the main street of this bustling business district."
"Small Town Bliss"  – Photography by Brad Reed; toddandbradreed.com 

"Ludington is the place to be on New Year's Eve. The fireworks display after the ball drop is even more impressive than the fireworks during the 4th of July. I love my small hometown and I am proud to be from Ludington."
"Chapel Rock Winter Sunset" – Photography by Joe Braun; citrusmilo.com

"The setting sun turns the sky pink during a cold evening at Chapel Rock. For those who enjoy snowshoeing, cross-country skiing and winter backpacking, trekking along the coastline of Lake Superior in Pictured Rocks National Lakeshore is a wonderful experience for the lonely soul."
-Marla R. Miller is an award-winning journalist and managing editor of Michigan BLUE Magazine.
Facebook Comments