Editor's Note: Excerpts from "Ice Caves of Leelanau: A Visual Exploration by Ken Scott" are printed with permission of Leelanau Press (leelanaupress.com). For an excerpt of this book's forward, "A Winter of Ice and Cold" by Jerry Dennis, turn to page 30 in this edition of BLUE.
---
The spring of 2014 continued to be much colder than normal, allowing the great volume of ice built up over the winter on the Great Lakes to set records for coverage through the months of April. Despite the relentless bouts of cold, the ice eventually fell victim to the simple rhythm of Earth's inclined orbit around the sun. It was a long thaw before the caves — along with the volcanoes, balls and pancakes — rejoined the rolling waves and deep currents of Lake Michigan.
Ice, in all its glorious forms seen on and near Lake Michigan, is fleeting, even in the coldest of winter seasons.
Tourists from near and far will visit the lake in the summer and never imagine the frozen vistas that existed only months before. This ephemeral nature adds to the icy mystique. While limestone caves evolve over tens of millions of years, the ice caves of 2014 lasted mere weeks.
The photos in "Ice Caves of Leelanau: A Visual Exploration by Ken Scott" (2014, Leelanau Press) serve to preserve what was there and tell the story of how it formed, evolved and then disappeared.
It also calls us out of our hibernating comfort zones and into the bitter winds and stinging snowflakes to experience them in all their glory when the sun sinks low, mighty Orion and the constellations of winter rise high, and the ice forms again.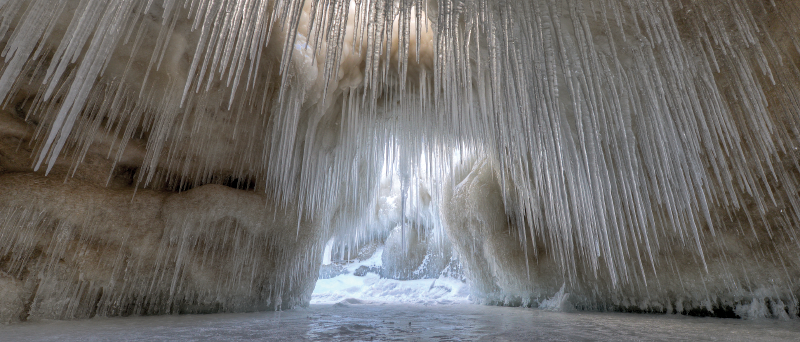 Explore more of Ken Scott's frosty imagery at kenscottphotography.com.
---
Author Ernest Ostuno is a meteorologist with the National Weather Service in Grand Rapids, Mich.
Facebook Comments